I am thrilled to take you behind the scenes of maternity leave with Denise Duffield-Thomas, a money mindset mentor and the woman behind the well-known Lucky Bitch Money Bootcamp.  Denise and I are in a group online where we all get real about juggling business with babies, and she brings that honest take to her blog post as well.
In case you are not familiar with Denise's work, let's start with a little intro to the business…
I've been mentoring and speaking for close to twenty years (for real, I was president of my business club at University), but always did it on the side. I became a full time business coach in 2011 and was turning over seven figures a few years later.
My main focus is my Money Bootcamp where I help women identify and release their money blocks. It's the best job ever because I find money stories endlessly fascinating, and I'm passionate about financial empowerment for women. I have several self-published books, and some mini courses and affiliate income but I keep my business really simple and uncomplicated, with one course and one target market.
Pre-kids, I was definitely a shiny objects girl, but my motto now is "all roads lead to Bootcamp", which keeps me focused!
When did you first start thinking about your leave? What kind of feelings did you experience as you first started thinking about your leave and as you planned out details?
I'm definitely a long term planner, so I started shifting my business in preparation before I was even pregnant!
I saw a ton of friends really struggle with their businesses once they had kids, so I knew that I had to scale way back on private coaching clients and turn my Money Bootcamp into an evergreen DIY program instead of a live course. As soon as I had all that sorted, I was like "ah, NOW we can get pregnant!"
I was really worried that as soon as I had babies, I'd lose my ambition, drive and creativity, but didn't happen for me at all.
If anything, having kids made me even more passionate about helping people create abundance in their own lives.
I had every intention to make 4-6 full months off, but in reality, I was sneaking back on my laptop within a few days of both babies being born.
I hadn't promised anything to my customers, so I just started some internal projects like the proposal for my next book.
Because I had such easy pregnancies and labors, I just coasted on adrenaline until I crashed around the 6 month mark with sleep deprivation. Plus, both times, we were either moving house or renovating (we signed a house contract while I was in actual labor!).
Next time, I'm going to slow down and nap more! I don't need to do ALL THE THINGS.
What were three systems you put in place to keep things moving without you?
Batching content: In December, I spent 3 days in a studio, filming all my blog videos for the year ahead. It was a mammoth task but so useful to have it sorted in advance (and then my team could batch the editing and graphics). The only downside? I lost 30 lbs almost straight after filming, so it didn't quite match the "real-time" Denise.
Customer service software: We use Helpscout inbox software and a part-time assistant to filter all emails, which keeps my inbox really clean (emails stress me out). I probably get less than 10 emails a day now (and most of them are from my husband Mark who loves giving me extra work!)
Meal delivery service: this isn't business related, but it was SO useful to keep me happy and well-fed. After my first baby was born, I just sat on the couch and ate whole sleeves of crackers and peanut butter for lunch because I had no energy to cook. For baby #2, I signed up for a local healthy cafe's delivery service. It was just one less thing to worry about, and I could spend the extra energy on my book proposal.
Tell me about your transition back to work after leave
For my Money Bootcampers, they probably felt like I was never away! I just couldn't help myself sneaking back into the Facebook group during those endless breastfeeding sessions. After a few months, I started doing podcast interviews, and then gradually added new commitments.
Having an evergreen course making money every day really allowed me to take my time, finance wise.
I found being on maternity leave the best excuse ever to set new boundaries and say no to things I didn't want to do, and some things (like in person speaking gigs), I never really picked up again.
What, if anything, would you change in retrospect?
I really nailed the money stuff, but I fell down on the self-care piece, so I'm going to get more balanced next time.
I tell all my friends who are scared to take the leap "babies bring abundance."
For me, it was the catalyst to become a better, more efficient CEO of my business and not do everything myself anymore.
Having a baby is an opportunity to simplify, get really efficient with your time and just focus on income-producing activities.
And make sure you find a good group of biz chicks who understand the work/mama juggle!
Want more resources about preparing your business for maternity leave? Check out Chapter 4 of The Expecting Entrepreneur.
---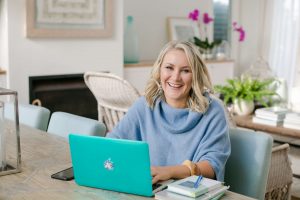 Denise Duffield-Thomas is the money mindset mentor for the new wave of online female entrepreneurs. Her best-selling books "Lucky Bitch" and "Get Rich, Lucky Bitch" give a fresh and funny road-map to create an outrageously successful life and business.
Denise helps women release their fear of money, set premium prices for their services and take back control over their finances.
Denise is an award-winning speaker, author, and entrepreneur who helps women transform their Economy-Class money mindset into a First-Class life. Find her at www.LuckyBitch.com