Kate and I connected over our mutual love and respect for the postpartum period. She is a postpartum doula and mother of 3 and has built her in-person and online practice on the pillars of providing quality support for the precious days and weeks after birth. I'll let Kate take it away with her response to one of the most frequently asked questions I hear…
---
One of the questions that I get asked most as a postpartum doula is "what do you DO?".
Good question.
The role of a postpartum doula is to ease the transition into motherhood by providing practical, emotional, and physical support to both the mother, baby, and family.
Ok, what does THAT mean?
It means that for each family, our role is slightly different.
For some families, we teach proper newborn care techniques.
For others, we provide breastfeeding support to mother and supporting partner.
For others, it's providing time for the mom to rest.
Almost all include working through the emotional (and hormonal) rollercoaster of early motherhood.
The backbone of the postpartum doula practice is to provide support and care to the mother so she can better take care of herself, her family, and her baby.
We "mother the mother".
Returning to work, no matter how long your maternity leave is, it is a huge undertaking.
Even if you are counting down the days to "get back to it", your life has drastically changed.
No doubt your priorities have shifted (even a little bit), your exhaustion has hit an all-time high, and your body is going through changes you never even saw coming.
You may also be thinking, how am I going to have time to do it all: raise a baby, be a supportive partner, be a responsible addition to the workforce, and take care of myself?
Don't fret, a postpartum doula can help.
We can help navigate the postpartum period before, during, and after your transition back to the workforce by providing:
1. Emotional support:
Adding another responsibility of joining the workforce to an already full plate as a mom can be overwhelming.  Your priorities have no doubt shifted, providing for your baby is more of a priority that you may have thought it would be.  We can help work through setting up boundaries in both the workplace and at home to preserve your relationships in both.
2. Relationship support:
How are you supposed to have time for both your baby AND your partner when you have even less time with each of them? We can help set up lines of communication between you and your partner and work through this transition while being understanding and graceful to each other, and yourselves.
3. Make rest a priority:
A postpartum doula can help accomplish or delegate practical chores so that your time is not spent tackling the laundry, doing the dishes, organizing the mail, or going to the grocery store on the precious time that you aren't working.  Learning to hand off responsibilities that will allow you to rest, recover, and nurture your relationship with yourself, your baby, and your partner.
4. Taking care of yourself:
It's hard as a mom to practice self-care, when you add returning to work to the mix, often this is one thing that is taken of the priority list.  A postpartum doula can help you figure out the self-care routines that you should preserve, and how to accomplish them in the "best bang for your buck" way.  A postpartum doula can suggest ways that self-care can be done with your partner, with your baby, or ways to escape from it all and have some time to yourself.
5. Breast pump tips & tricks:
Returning to work usually means being away from your baby for periods of time.  If you are a breastfeeding mom, this usually translates to a new relationship with your breast pump.  Pumping and nursing tend to be vastly different for moms. Postpartum doulas can help teach you tips & tricks to decrease the stress of this addition to your daily routine.
Having someone in your corner, supporting you and your family as you navigate this monumental shift during an already monumental and defining period can help ease your entrance back into the "real" world.
Want more resources about building a support network?  Check out Chapter 8 of The Expecting Entrepreneur.
---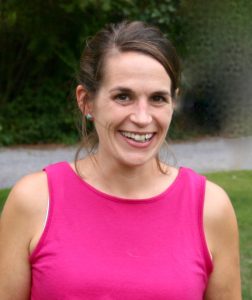 As a working mom of three, Kate navigated returning to work after maternity leave with each child.  With her first child, she took 12 weeks of maternity leave, and the last two she took 6 weeks (then, was lucky enough to bring them to work with her!).
Each time Kate returned to work she learned to "let go" of more in order to preserve what was most important: taking care of herself and her family.  
After her third child was born, Kate began her training as a postpartum doula and has been supporting families since.  You can connect with Kate at www.ktpostpartumdoula.com and check out her community resource site: www.eastendparentsupport.com