Let's start with a little intro to Lindsey's business…
I'm a web designer and brand strategist, and I work with primarily women entrepreneurs to elevate their businesses by creating an online presence that really speaks to the heart of their audience and helps them grow to the next level.
I'm all about the minimal, the pretty, the pops of color, and a strong and compelling brand message when it comes to websites and brands, and I love working with other moms and women to achieve those visuals and that solid foundation.
Entrepreneurship is a huge passion of mine, and I've been a solopreneur since August 2014.
Verity & Co. began under a different name and grew slowly, but what started out as just a mom pursuing a side gig grew into more.  It's been a blessing, and I have felt content with the pace that I've grown and yet always striving for more excellence and steady growth.
I bring in most of my income through the web design & development and brand design, but in the beginning, I also dabbled in social media management, blog management, and other business tasks. But since we can't do #allthethings, I slowly removed those services from my repertoire and began niche down to focus on designing websites and brands. As I grow now into 2017, I'll hopefully be branching into offering more education and courses in addition to my 1:1 design services.
Family and faith are everything to me. I'm married to my very supportive husband, Matt, and I'm a full-time mom to our three kids, currently 5, 3, and 7 months. We're all about the country life, family time, Legos, and Jesus. Verity & Co. was born when my middle child was about 9 months old, so my first experience with running a business and needing time off for a baby was with our youngest in August 2017.
When did you first start thinking about your leave? What kind of feelings did you experience as you first started thinking about your leave and as you planned out details?

I first started thinking about a maternity leave when I was in the trenches of morning sickness. I had to pull way back in order to cope with being sick, and even then my clients were amazingly gracious–but I really expected no less from them. It was at that point that I knew I wanted to take about a month off once my baby was born so I could enjoy the precious and fleeting newborn days and also recover as best I could.  
Oh, emotions.
I was honestly torn when it came to thinking about my maternity leave.
I knew that above all, I really desired to take time off and enjoy my family, and this was a no-brainer: I was going to make time off a reality.
One of the main reasons I started my business in the first place was to have that time freedom! But as a solopreneur, I knew it was going to slow things down a bit, no matter how much I planned. At least, that's what I thought, and it was a little challenging to come to grips with losing momentum after gaining momentum that year.
Tell us about the maternity leave you planned for AND what it actually ended up looking like (because, let's be real, sometimes plans change!)
I planned to start my leave about a week before my due date, but of course projects occasionally get delayed, as was the case with a couple I worked on that summer.
I was working on a website development project the day my water broke (!) and then, well, since I am a one-girl show, it didn't get done for weeks after that. Fortunately, the client was very gracious and knew ahead of time that I was expecting.
In total, my leave was about 4 weeks long, but that was definitely my choice.
I wasn't going back to a corporate job or sending any of my kiddos to daycare, so the ease back into work gave me a little taste of what my new normal and daily routine was going to look like.
What were three systems you put in place to keep things moving without you?
I had a content marketing plan in place, and by that, I mean that I created social media posts and scheduled them ahead of time to keep things moving while I was on this break
I also set up an auto-responder for my email to let contacts know that I wasn't as actively replying to messages. However, I knew I couldn't let things go entirely cold.
I took about a week off completely but then jumped into checking emails and social media occasionally. It was nice–I wasn't stressed about taking a break but it was also good for me to jump on and monitor that there were no big fires to deal with.
Tell us about your transition back to work after leave

My transition back was really casual. Actually, that's what I called my leave: a very casual maternity leave.
I would give birth to a baby, but provided all went well (and praise that it did), I'd be back slowly but surely to give attention to my business and my clients.
I came back slowly after about 4 weeks of beautiful time off, and it really was an easy transition.
Again, it's another perk to being a solopreneur: I had the complete freedom to either cut short or extend my leave as needed, and to ease back as was best for me and my family.
What, if anything, would you change in retrospect?
You know, I don't think there's anything drastic I would have changed. Ideally, I would have maintained stronger deadlines with clients so that all of my loose ends and website projects were tied up nicely before my baby was born, but sometimes that just can't be helped.
It speaks wonders to the value of good and honest communication with clients, customers, and collaborators when it comes to taking any time off for yourself.
What is your #1 tip for pregnant business owners based on your experience?
Give yourself grace, mamas. It's so easy for us to be hardest on ourselves when we aren't getting as much done as we did when we weren't pregnant or giving up the reins to our business when we really need the time off.
But it's okay. You'll make it through the break, your body will thank you for it, the baby snuggles will do your heart good, and your business will still be there when you feel ready to go back. Even if you're a one-girl show like me
Want more resources about preparing your business for leave? Check out Chapter 4 of The Expecting Entrepreneur.
---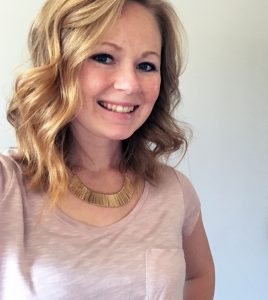 Lindsey Johnson is the small business cheerleader, designer, and strategist of Verity & Co, a web design & brand strategy boutique. A small town girl living next to Lake Superior, Lindsey believes your brand deserves beautiful visuals and a functional website and takes a collaborative approach to handcrafting brands. When she's not working with passionate creatives, you'll find her chasing her three kids, keeping house, and raising her growing family on faith & grace.