It's an exciting time in life when you're expecting, but it can also be an overwhelming and scary time, too. Especially when you're also the owner of a small business.
One of the best things you can do for yourself, and your growing family, is to have solid plans in place for how you will take care of business before your little one arrives.
If your plans include hiring some help in your business, then you've come to the right place!
Today, I'm sharing five things you need to know before hiring for your maternity leave.
#1 Preparing Your Business for Hiring
Streamline your business by automating and systematizing your operations.
You'll not only set yourself up for a great maternity leave, but you'll have a much easier transition when you're ready to get back to work.
Consider these questions:
Are your business tasks and processes automated and systematized?

What content can you batch create and schedule before your leave?

What absolutely needs to get done during the time that you're out on leave?

What specific tasks or functions can you outsource?
For even more insight on this topic, check out this great blog post by Arianna.
#2 Outsourcing Options
You have two primary options for outsourcing – Independent Contractors and Employees.
What you plan to outsource will determine which type of worker you'll need to hire.
Here's a quick overview of both types of workers:
Independent Contractors

are great for short-term or temporary help. They're excellent for projects and providing support in your operations. Contractors should not be performing any work that is considered "integral" to your operation, which are tasks you perform that are the reason your business exists (ex: website design for a design business; coaching for a coaching business; social media management for a social media management business, etc.).
Employees

are ideal if you're going to need help with those integral parts of your business or if you need someone who can be fully dedicated to your business and not managing tasks for several businesses. A quick word of caution, though, employees are more complicated to hire and you're fully responsible for payroll, taxes, insurance, and more.
This is a very broad topic, with tons of "what if's." If you'd like to learn more, check out my interview on the Legal Road Map® Podcast with Autumn Witt Boyd.
#3 Timeline for Hiring and On-Boarding
You'll want to start thinking about hiring help no later than your 2nd Trimester.
Sometimes it can take a while to find the right person and other times you'll need help a little sooner than you might expect, especially if you're placed on bed rest or your little one makes an early arrival.
Also think about:
Availability of the worker you wish to hire

Time to properly onboard and/or train your worker

Opportunity to work with the individual before you're out of office
#4 Creating a Communication Plan
Whether you hire a Contractor or an Employee, you're going to want updates about what's going on in your business when you're out on leave.
With a solid communication plan in place, you'll be able to relax and enjoy your family time while knowing you'll receive regular updates.
Your workers will also have clear expectations around what to communicate and when, so they can respect your time off and privacy while understanding they can reach you in case of an emergency.
Create your communication plan by considering these points:
How often do you want updates?

What format would you prefer to receive updates?

What constitutes an emergency that you should be notified of immediately?

Also, make sure to set some clear boundaries, such as:

No calls before _______(time) or after ________(time).

I will respond to emails on ________(day of the week).

No more than ________(number) emails/phone calls/etc. per day.

In case of an emergency situation, you should ________ (call/text) me immediately, regardless of the time of day.
#5 Have a Post-Leave Transition Plan
One thing a lot of people don't think about is the post-leave transition (or off-boarding) plan.
Having a plan for when you return to work is just as important as planning to be out on leave.
Before you return to work, you should have a plan in place that outlines your first two to four weeks back.
Consider keeping your workers during this time period, so you can meet with them to get final updates, handoff projects, and give yourself time to get back in the swing of things.
I hope you find these tips helpful as you prepare to welcome your little one into the world!
Want more resources about hiring for maternity leave? Check out Chapter 4 of The Expecting Entrepreneur.
---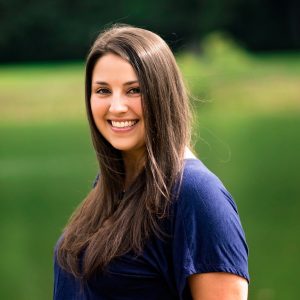 Ashley Cox is The HR Partner for small businesses at sproutHR, where she loves to make the intimidating, overwhelming, and confusing parts of hiring, training, and leading a team simple, actionable, and fun so you can confidently lead a profitable team. You can connect with her on Facebook, Instagram, and LinkedIn and you don't want to miss her her resource on "4 Simple Steps for Who to Hire First + How Much to Budget"